FitzJohn/Hungerford.  This Coat of Arms came to Sir Walter Hungerford (1308-1355) on his marriage to Elizabeth Fitzjohn in c. 1329-1330, to which she brought the Fitzjohn inheritance of lands from her father Sir Adam Fitzjohn of Cherill, Wiltshire. This shield subsequently appears on all Hungerford Coats of Arms, usually impaled or quartered with Heytesbury, and various others.  The Heraldic Blazon (i.e. description in heraldic language of a coat of arms) reads: "Sable, two bars, argent, in chief three plates argent". 
The Hungerford motto is  "Et Dieu Mon Appuy" and translated as "God is my strength".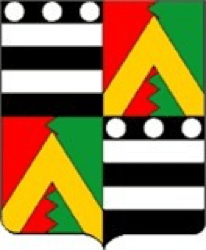 Hungerford/Heytesbury. This coat of arms was used by Sir Thomas Hungerford in 1375 and shows the Fitzjohn coat of arms (Sable, two bars argent, in chief three plates argent) quartered with the Heytesbury coat of arms (Per pale indented gules and vert, a chevron or).
Sir Thomas Hungerford (c.1340-1398), who was Speaker of the House of Commons, purchased feudal lands in the Hundred of  Heytesbury in 1375.  The transaction was completed in 1382.  These lands were previously owned by Maude de Heytesbury, his great grandmother.  In Kirby, J.L., ed., The Hungerford Cartulary; a calendar of the Earl of Radnor's cartulary of the Hungerford Family,  Volume 49, Entry 807, Farleigh Montfort, 29 Sept. 1382, it quotes "As Thomas Hungerford, knight… has entered … all the manors, lands and tenements of Heytesbury …. and is now in full possession, … they now release to him, his heirs and assigns all rights to them."
(Pronunciation: "Heightsbury" or "Hetts-b'ry" in  19th century, or  "Hatesbury")