By John Lehmann. Originally published in The Australian on 16 August 2023.
The baton has changed hands in the Hunter Valley at Tyrrell's Wines, one of Australia's most enduring family-run businesses.
Quietly but deliberately, six weeks ago family patriarch Bruce Tyrrell [E.2.4a.10b.1c.2d] called aside son Chris [E.2.4a.10b.1c.2d.3e] and told him it was time to take the reins of what is the second-oldest continuously operated family winery in Australia.
Chris, 41, will be just the fifth leader to run the family business since English settler Edward Tyrrell [E.2.4a] set up in the Hunter Valley in 1858 and planted the family's first vines soon after.
"You want to keep the place going forward – you don't want it to get stale,'' says Bruce, 71, who has shaped Tyrrell's fortunes as managing director since 2000.
Leadership change tends to move at a faster clip in Australia than in previous times – witness the rotation of our prime ministers and cricket captains – but for Tyrrell's, a change of high office remains a rare event.
"I was in the waiting room until my old man died and you look back and think, there were probably a few wasted years there.''
Bruce's old man was Murray Tyrrell [E.2.4a.10b.1c] , affectionately known as the "Mouth of the Hunter" and, most certainly, one of the biggest voices of his generation who ushered Australian table wine into the modern era.
His son's reign may have been a few decibels quieter but his impact has been heard just as widely.
It was Bruce who recognised the unique qualities of Hunter semillon back in the 1980s, when he hid 1000 cases of Tyrrell's Vat 1 from his father in the corner of the warehouse to delay its sale.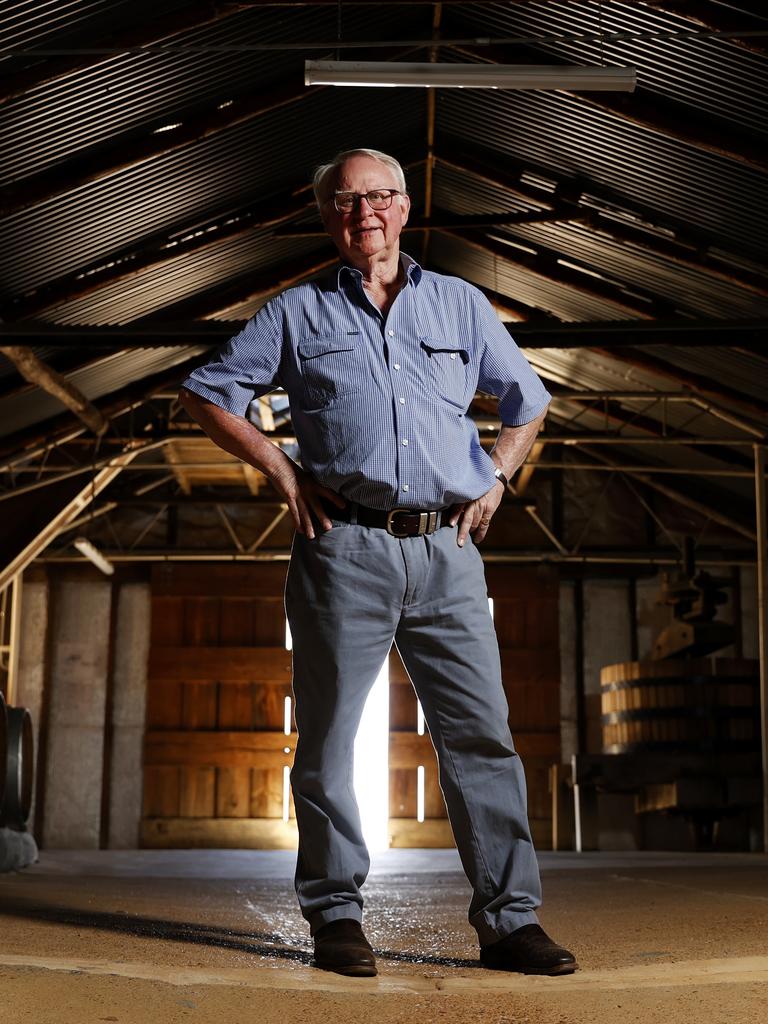 When the wine was finally released in 1996, drinkers discovered the extraordinary change to the flavour and texture of semillon as it ages.
The legend of Vat 1 was born and under Bruce's stewardship it has gone on to be regarded as the world's finest semillon while becoming Australia's most awarded white wine, with almost 5500 medals and more than 330 trophies.
Perhaps just as important has been Bruce's understanding of provenance, promoting the status of single-vineyard wines to wine lovers and helping us understand the influence of soil and vine age on the flavours we enjoy.
To spend time with Bruce is to understand he knows the vineyards of the Hunter like the back of his hand; the red clay soils of the ridges and the light sandy flats. He's been exploring the nooks and crannies for nearly 50 years now, having returned to the family business as a 23-year-old after graduating from the University of New England with a Bachelor of Agricultural Economics.
"It's a patchwork quilt," he says. "You learn over the years where you've got a decent bit of dirt and where you're wasting your time."
Only a few years after stepping into his father's shoes, Bruce doubled down on his knowledge to launch Tyrrell's Sacred Sites range – wines made only with grapes from Hunter Valley vines that were more than 100 years old and still growing on their own roots.
The move has been years in the making, with Bruce building trust with the families who owned those ancestor vines; buying their grapes, working with them to improve their vineyards and making wines worth celebrating.
His first handshake grape-buying deal was with the Stevens family in 1992 – a relationship that led 25 years later to Tyrrell's purchasing the Stevens' Old Hillside Vineyard, home to the oldest surviving vines in NSW, the 1867 Old Patch shiraz block.
Of the 13 vineyard blocks in the Hunter that contain these ancient vines, the Tyrrells now own nine of them.
And under Bruce, the quality of Old Patch Shiraz has garnered global attention, with American critic James Suckling giving the 2017, 2018 and 2019 vintages a perfect 100-point score.
Bruce also ensured Tyrrell's became a foundation member of Australia's First Families of Wine, joining 10 other family-owned, multi-generational wine businesses in 2009 in the promotional group designed to elevate the pedigree of Australia's wine industry internationally.
"But you don't have all the good ideas," says Bruce, who was honoured with an Order of Australia medal in 2006. "Sometimes you get stuck in your ways and bang your head."
"We say, you need half an eye on the past and 1½ eyes on the future."
Son Chris steps into the top job at a challenging time, with the wine industry still recalibrating after China effectively pulled the plug on more than $1bn worth of annual exports.
During our conversation, Bruce refers me to recent research that shows Chinese drinkers' consumption of wine was already falling before Beijing's tariff hike, and it is unlikely to return to its previous highs when political tensions cool.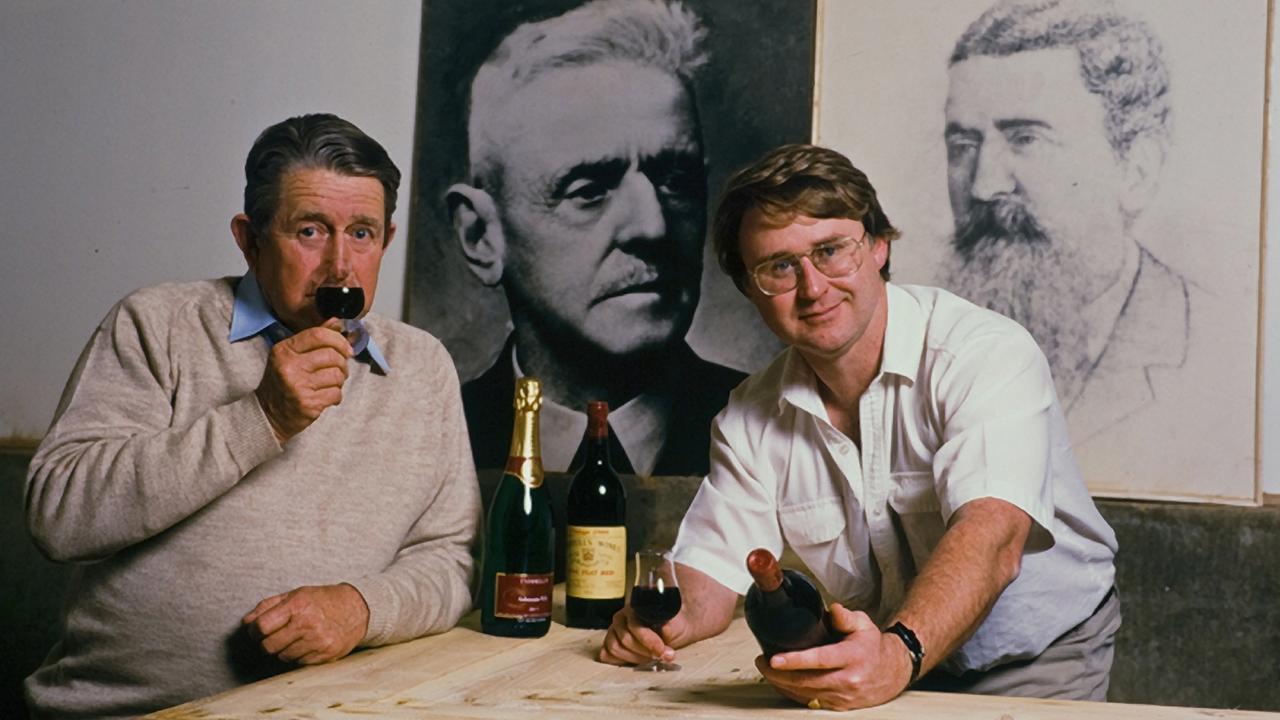 Like his father, Chris has been schooled "in the family business" for years, beginning his apprenticeship as an 18-year-old during the first vintage after his grandfather, Murray, died in 2001. He was sent off to Sydney as a sales agent soon after with one piece of advice. "You've got one mouth and two ears – use them in that ratio," Bruce told him.
Chris, who has risen through the ranks of assistant winemaker and chief operating officer and is a respected judge on the show circuit, feels the influence of those who have led before him.
"It's a humbling experience to be able to go out every day and work with vineyards that were planted by my grandfather, my great-grandfather and my great-great-grandfather," he has said.
As a father of two children – the 6th generation to live on the Hunter estate – Chris' mission will be nothing less than to further strengthen Tyrrell's position as one of the world's greatest family-owned wine companies for those who come after him.
And his old man will still be around to help as company chairman – "I didn't say I was retiring – I'm stepping back, and up. I'll retire 10 days after I die," Bruce laughs.
---