By Ashley Smyth – 5 November 2021 (http://www.oamarumail.co.nz/community/artist-colours-her-world)
The future looks bright for Lucy Tyrrell [E.2.4a.5b.2c.2d.1e], who is looking to turn her painting ''side hustle'' into a career. ''If it doesn't work out, then it doesn't work out, but at least I tried.''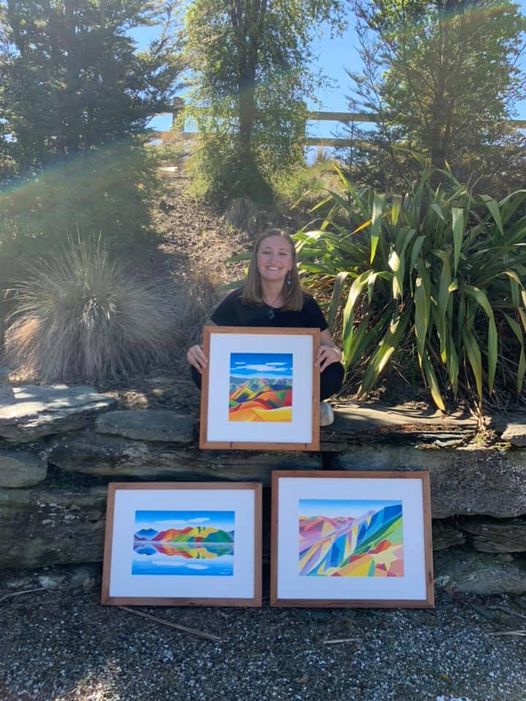 The 25-year-old, who lived in Kurow (NZ) as a child and finished top of her art class at Oamaru's St Kevin's College, has discovered a new passion for painting with acrylic. In a move to Blenheim five years ago to study viticulture and work in the wine industry, she moved away from painting as she tried to make her way in the ''real world''. However, photographs from hiking in the mountains of Marlborough and the Abel Tasman region provided inspiration for her current work, Miss Tyrrell said.
She was also inspired by the artwork of Tammie Hodgetts, which she spotted on Facebook page Chooice, which promoted New Zealand small businesses. ''I saw her artwork on there and I really love it. She inspired me to start going into that really colourful kind of geometric, unrealistic landscape style. 'Mine looks really different to hers . . . and it seems to be going pretty well,'' Miss Tyrrell said.
She moved to Wanaka earlier this year to work at Cardrona cafe Apres during the ski season, but as her contract there came to an end she was presented the perfect opportunity to focus on her art. ''It takes so much time to paint a single painting, so it would be nice to have some more time to be able to work on it.'
Miss Tyrrell began sharing her work on Facebook about five weeks ago and had received an encouraging reaction. She was working on a few commissions, and getting some prints made before Christmas. ''I've had like a really good response to it, and I feel really good doing it too. ''When I was in high school, the paintings I would produce I wasn't actually happy with. And for the first time, the paintings that I produce I'm actually proud to show people, and I'm proud in myself with what I'm producing as well, so it makes me feel like I'm doing something good and that I should carry it on,'' she said.
Entering three works in her first exhibition at the Wanaka Labour Weekend Art Exhibition was less about sales, and more about exposure, she said. ''My style is quite niche, quite specific, so hopefully my style will be remembered and people will see that in the future and go, 'oh, I really like that', and support me at some point . . .so it was nice to get that under my belt.''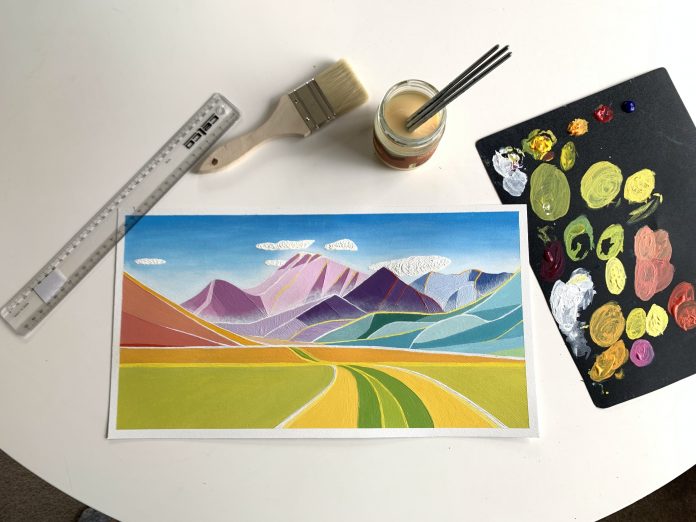 A dining room table in a flat she shares with four others was doubling as a work space at present, and every new painting she created became the favourite. Miss Tyrrell's dream would be to make enough money from art to support herself. ''The end point is becoming a full-time artist and actually earning a full-time wage on this, but I'm just seeing what happens. I don't have high expectations about it, but if I'm meant to be a full-time artist that's the way it goes.''
Prints of Miss Tyrrell's artwork would be stocked at Art on Tyne in Oamaru, she said.