Author: Lesley Abrahams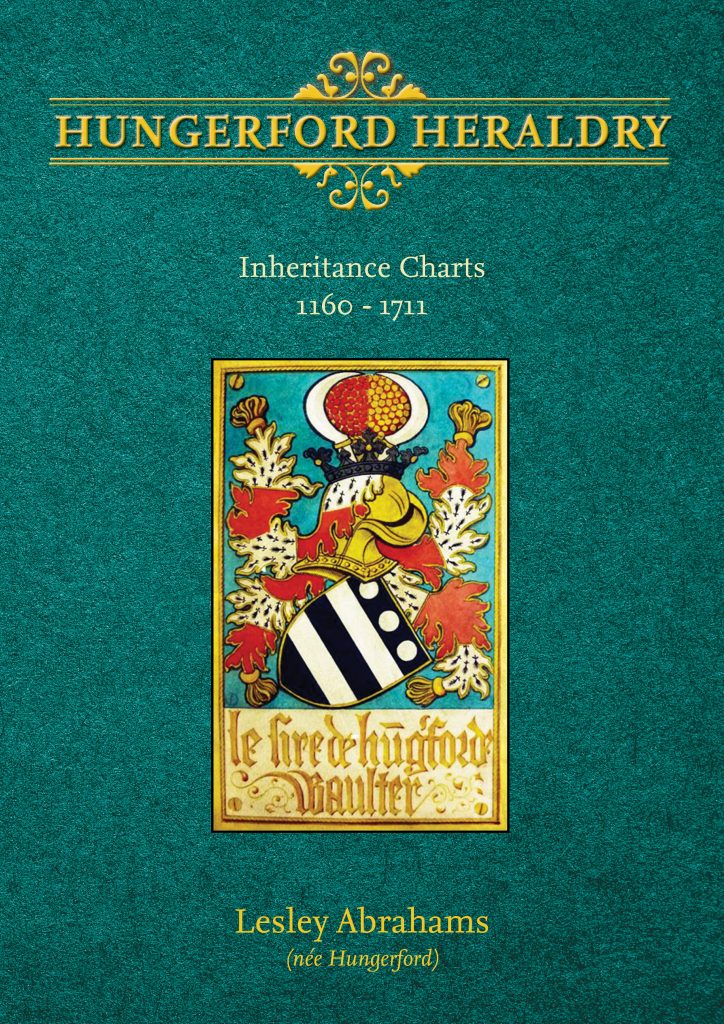 Explore the relationships of the past and discover links to ancestral history in Hungerford Heraldry: Inheritance Charts 1160-1711.
Trace the origins of the 143 different Coats of Arms of members of the Hungerford family from 1160 to 1711 through the unique graphical inheritance charts for 47 ancestors.
Introductory chapters explain the language of heraldry, the history of the early Hungerfords and their link to Salisbury Cathedral. The 47 Inheritance Charts will interest descendants of Hungerfords and other ancient families. A detailed table of contents and a comprehensive index are included to assist the reader. See below for samples.
This unique book will interest Hungerford descendants, people with an interest in heraldry and visitors to Salisbury Cathedral.
The book comprises over 216 pages in colour and published in softcover.
Price: AU$75 + flat fee for postage and packaging.
---
Inheritance charts
Tracing relationships, births and lineages spanning hundreds of years, Hungerford Heraldry: Inheritance Charts 1160-1711 lays out the evolutions of Coats of Arms in stunning visual charts,as shown in the samples below.
---
Table of Contents and List of Inheritance Charts
---
HAFS President Lesley Abrahams [H.4a.1b.1c.1d/E.6.5a.1b.1c.1d] has a fascination with all things heraldic but particularly as it pertains to our Hungerford ancestors.
Lesley grew up on an apple orchard in the Blue Mountains of NSW, her parents being serious readers. Her mother was a historian, teacher and author. Lesley worked as a Librarian before retraining as a Teacher-Librarian, following this career until 2010. Since then her time is divided between family history, research, and volunteering at Taronga Western Plains Zoo and acting as our President.
Lesley has been researching Hungerford history and heraldry for over twelve years, culminating in this comprehensive new book.
---
Behind the book
The basis of research in this book is the shields above the Radnor Family Pews in Salisbury Cathedral, England, and its launch was timed to coincide with the 600-year anniversary of the investiture of Walter, first Lord Hungerford as a Knight of the Order of the Garter, on 3 May 1421. Read more about the story behind the book in our earlier post Launch of Hungerford Heraldry~Inheritance Charts 1160-1711.
See some purchasers' comments below