As you know we are always researching and updating our family information. Just recently we found another name to add to our list.1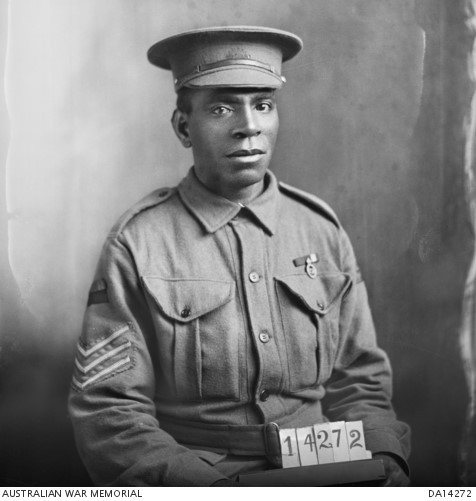 William Jacob Watriama2[L.VIII.iii.7.1a=] was born in 1880, in the Loyalty Islands, New Caledonia and eventually arrived in Australia in about 1891.  Throughout his life he fought to end French rule over New Caledonia and  proclaimed himself to be the exiled "King of the Loyalty Islands".  William tried to visit his homeland twice, but each time was deported.
He married Ethel Tipping, daughter of Alfred Tipping and his wife Amelia (nee Garrett). They married in Melbourne, Victoria, on the 21 March 1916.
At the time William was a member of the Australian Imperial Force. In 1901-02 he served in the Boer War as a trooper with the 2nd New South Wales Mounted Rifles. Then, in 1914 he joined the Australian Naval and Military Expeditionary Force which occupied German New Guinea and, en route to Rabaul, helped to train troops aboard the Berrima. Enlisting as a private in the Australian Imperial Force in December 1915, he served with the 5th Australian Training Battalion in England and with the 18th Battalion, AIF, in France, being discharged on 5 December 1917.
Ethel and William lived at Northbridge, Sydney. Survived by his wife, daughter Edna and son, Merlyn; William died of cancer on 5 January 1925 at Mater Misericordiae Hospital, Sydney, and was buried in the Methodist section of Northern Suburbs Cemetery. Prime Minister Billy Hughes delivered a speech at the graveside:
"In the course of a short address, Mr.Hughes referred to the late Mr Watriama's charming nature, and to the fact that the blood of aristocracy flowed in his veins. Mr Watriama had fought in two wars — South Africa and the Great War — and was respected by all who knew him. Mr Hughes added that he was present to do honour and pay respect to a fine man and an old friend, whose life's ambition was to see the Union Jack fly over his native islands."3
A more extensive article on William Watriama has now been published: see HAFS Journal Vol 16 No 1, May 2021.