Editor's Note: These articles were written by Brett Harvey [E.1.1a.15b.1c.1d.1e=] and originally published in HAFS Journal Vol 13 No 1 (May 2015) and HAFS Journal Vol 13 No 3 (May 2016).
Bramhall – Jersey Street, Strathfield – Home of Florence Edith Chapman [E.8.7a] and Charles Frederick Lindeman [E.8.7a=]
In the late 1800's there were many grand houses built in the inner west of Sydney including Bramhall located at 12 Jersey Street Strathfield.
Bramhall was originally the family residence of Charles Frederick Lindeman (see right) who was a wine merchant and formerly a manager of the family wine making business, Lindeman's. Prior to living at Bramhall, Charles Lindeman and his wife, Florence Edith Lindeman (nee Chapman), whom he married on 31 October 1883, lived at a house called Brinkburn in Albert Road, Strathfield.
Bramhill is grand and imposing in appearance, set back from the street with architecture in the Federation Queen Anne style. There are a number of established trees on the land. Over time the land has been subdivided with other units constructed on the site, however, the house still remains separate from these units.
The roof is steeply hipped cladded with red shingle tiles and features a number of prominent tall chimneys. The house constructed of a reddish tuck-pointed brick with the usage of shingles for the upper storey verandah facade.
A dominant feature of the house is the two-storey verandah at the front of the house with wide brick columns, balustrade and a number of large full-length double-hung windows opening out onto to the verandah and balcony. On the corner a two storey gabled window bay projects forward at an angle featuring a set of large double-hung windows on both floors. Steps lead to an entrance porch at the front of the house with a beautiful door. The eastern side of the house features a single-storey verandah with turned timber posts and fretwork brackets. Also on this side of the house is an enclosed balcony on the first floor.
It appears that Bramhall may share the same architect as the Federation Queen Anne mansion Caerleon located at 13-15 Ginahgulla Road, Bellevue Hill. Woollahra Council image library states that this residence was built for Charles B Fairfax in the mid to late 1880's. While Caerleon was built on a much grander scale, Bramhall shares distinct similar architectural features such as the reddish brick, shingled roof and upper storey facade, style and design of the chimneys, as well as the window framing and capping. Although it is unknown who the architect of Bramhall was, it is noted that Caerleon was designed by MB Adams.
Bramhall was built between 1891 and 1892 on land originally being part of Pilcher's Paddock, a large area of land belonging to Charles Pilcher, QC It was one of two identical houses built next door to each other (12 and 14 Jersey Road). As two identical houses were erected at the same time, it's not known if Lindeman himself had the house built or whether a third party built the two houses and then sold them to their first, respective owners – No 12 to Charles Lindeman and No 14 Wirringulla to Dr Richard Meares Sly, a judge of the Supreme Court of NSW. In the 1883 edition of the Sydney Sands Directory, both Bramhall and Wirringulla were listed as being located in Pilcher's Paddock . It wasn't until the 1894 edition that they were listed under Jersey Road. It would appear that Jersey Road was originally called Jersey Avenue as an article in the Sydney Morning Herald dated 2September 1892 states that a motion was put forth by Mayor Hennessy at the Burwood Council meeting for the street running through Pilcher's Paddock to be named Jersey Avenue. Bramhall and Wirringulla were the first two houses to be built in Jersey Road, at about the same time during which the street was created and formed. It's even quite likely that both houses may have even been completed before the street was finished, hence their initial listing under Pilcher's Paddock . From 1893 until c1921 Burwood Rates and Valuation books list Charles Lindeman as the owner of 12 Jersey Street.
The Lindeman's resided at Bramhall over a period of 20 years. It appears that Charles Lindeman named the house after the maiden name of his mother, Eliza Bramhall, whom his father Henry had married on 11 February 1840 shortly before arriving to Australia.
Over the years it appears that the Lindemans leased the house from time to time. In 1907 a Mr W Anning occupied the house and in 1913 members of the Starkey family occupied it. It was quite common practice for owners at the time to lease the family home while they may have been away on extended vacation.
A number of important events occurred at the home over the years, which included:
Birth of Nita Loane Lindeman [E.8.7a.6b] on 21 December 1896.
Wedding reception of Enid Maud Lindeman [E.8.7a.5b] and Frederick McLeod Cameron on 19 February 1913.
Birth of Ross Wellesley Lindeman [E.8.7a.1b.3c] on 4 October 1920.
In 1919 the Lindemans placed Bramhall on the market for sale by public auction. The ad appearing in the Sydney Morning Herald on 12 March 1919 states:
LAND, about 1¾ acre and having a frontage of about 200 feet to Jersey Road by a depth on one side extending through to Woodside Avenue at rear. Laid out in gardens, lawns and tennis court with refreshment kiosk. Bramhall is an exceedingly comfortable home; the rooms are of good size, well lighted and in perfect order. Electric Points and gas are installed throughout and it is immediately surrounded by many fine residences.
It appears that either the house remained on the market for some time or the Lindemans chose to retract it's sale, at least for a time, as on 4 October 1920 a son was born at Bramhall to FH Lindeman and his wife (viz Ross Wellesley Lindeman [E.8.7a.1b.3c]) – FH Lindeman likely being a son of Charles Lindeman.
In early 1921 new ads were posted for the sale of Bramhall. These ads described the house as a solidly constructed house of brick on stone, with the upper story and roof of shingle, standing within its well kept grounds, has a tiled verandah on two sides, two balconies, one partly enclosed for sleeping out purposes and contains on the ground floor porch, entrance hall, three well proportioned reception rooms, billiard room with bathroom attached and exceptionally complete domestic offices including two servants rooms and bathroom. Upstairs are four large bedrooms, dressing room, bathroom etc. Detached from the residence are man's room, garage, toolshed etc.
By around 1922 the Lindeman's sold the property to Mr Hepburn McKenzie, another notable Sydney merchant.
Now for the Hungerford connection:
The eldest child of Henry and Eliza was Eliza Sophia Pilcher. Eliza married Septimus Hungerford [E.7] on 1 February 1854 at St Mary's Church in West Maitland, NSW.
The sixth child was George de Vial. His first son, Norman George Stafford [E.8.6a.3b=] born 17 July 1876, married Edith Minter [E.8.6a.3b]. Point Pilcher near Medlow Bath NSW was probably named after Norman by Mark Foy.
Their youngest child was Charles Edward Pilcher born 20 April 1844 at Black Creek, near Maitland. He was educated at West Maitland High School, and The Kings School, Parramatta. He attended Sydney University, receiving a BA in 1865. In 1867 he was admitted to the Bar, reading with (Chief Justice) Sir Frederick Daley. On the 22 December 1871 he married Maria Smith McPhillamy at All Saints Cathedral, Bathurst, NSW. From 1875 to 1882 he represented West Macquarie as a free trader in the Legislative Assembly. Charles and Maria had four children, Ethel, Herbert, John and Gertrude. Charles died on 22 December 1916 aged 72 at Petersham, NSW, and is buried in the Anglican Section of Waverley Cemetery in Sydney. His wife Maria died 30 August 1903, aged 51, at Woollahra, NSW and is buried in Bathurst, NSW.
---
Killowen – Milton Street, Ashfield – Home of Thomas Hungerford [E.6]
The name Killowen is from the Irish Cill Eoghain, meaning "Eoghain's church", now spelt Cill Eoin (alternatively spelt Cill Abhainn). There is a Killowen Civil Parish in County Cork, Ireland and also a small village in County Down, Northern Ireland. In 1902 there was also an artesian bore at Killowen, near Hungerford, Queensland.
This property was originally part of a 100 acre grant to James Hunt Lucas on 11 November 1794. The property was subsequently sold and transferred in 1878 to Abram Orpen Moriarty.
The property was advertised for sale in the Sydney Morning Herald by Abram Moriarty on 3 January 1885 with the following description:
"KILLOWEN" a comfortable residence with land, having very large frontage to Milton Street, and being over 3 ½ acres in extent.
It is a villa of domestic gothic design, built of brick on stone foundations, shingle roof, having very wide and long verandah, hall 12 feet, and in parts 20 feet wide, drawing room, sitting room, dining room each 20 feet x 16 feet, ceilings 13 and 12 feet respectively, conservatory, dressing room, pantry storeroom, nursery, linen press, 5 bedrooms, bathroom, servant's room, detached kitchen, wash shed etc, stabling is at foot of paddock.
Thomas Hungerford [E.6] eventually purchased Killowen in July 1886.
It is interesting to note that an advertisement appeared in the Sydney Morning Herald on 2 April 1889 stating the property was to let as a gentleman's detached Gothic Residence. The advertisement stated that the grounds were about 4 acres, divided into flower garden, with fruit trees and paddock. Since that time an advertisement by a Mrs Wilmott appeared in the Sydney Morning Herald of 29 August 1911 stating apartments were available to let both furnished and unfurnished at Killowen.
Thomas died at Killowen in 1904. Then in 1913, the funeral of Guy Hungerford [H.4a] left Killowen for burial at St Thomas Church of England Cemetery, Enfield.
The property was still under the ownership of the estate of Thomas Hungerford in June 1916 and it was transferred to three of his children (who were his executors) being Herbert Blomfield Hungerford [E.6.4a], Kenneth Stuart Hungerford [E.6.8a] and Catherine Rachel Hungerford [E.6.3a].
The NSW State Archives held the land records for the property up until November 1916 when the property title (under Old System) was converted to the Torrens System, the current land title system in NSW. Although no sale advertisement could be located, the primary application was lodged by the then current owner Frank Oswald Powys so it is safe to assume that Killowen was sold somewhere between June and November 1916.
---
Brierloch (formerly named Northridge) – 141 Victoria Street Ashfield – Home of Hilda Hungerford [E.9.3a.2b] and her husband Bruce Gardiner Brierley [E.9.3a.2b=]
Originally named Northridge the home was built in 1886 on land purchased by William Jonathon Green and Gerald Clarke Thompson. By February 1887 John Gilbert Thompson was living in the home although the Land Titles Office holds no records of him ever owning the property. He lived there until his death in 1909.
In 1920 the property was placed up for sale with an advertisement appearing in the Sydney Morning Herald in October 1920 giving the following description:
A striking family residence, in pretty garden grounds, in a high position, with beautiful views. Three minutes from tram to Summer Hill station.
Brick house, cemented and painted, on stone, slate roof, wide verandah and outlook verandah, entrance vestibule, hall, drawing and music rooms, dining room, full sized billiard room, telephone room, cloak room and lavatory, storeroom, pantry, kitchen, laundry.
Upstairs: Six large bedrooms, dressing room, tiled bathroom, 2 maids bedrooms, maids bathroom.
Outside: Fernery, glass house, tennis house, full sized grass tennis lawn, beautifully laid out grounds and lawns, stable, coach house, harness room, motor garage, fowl house and yards.
Land 157 feet to Victoria Street by depth of about 300 feet along Seaview Street. Title Torrens.
In 1921 an article appeared in the Sydney Morning Herald including a photo of the house stating that the NSW Red Cross Society together with the War Chest Committee had purchased the property to be used as a home for the "neglected children of ex-A.I.F. soldiers".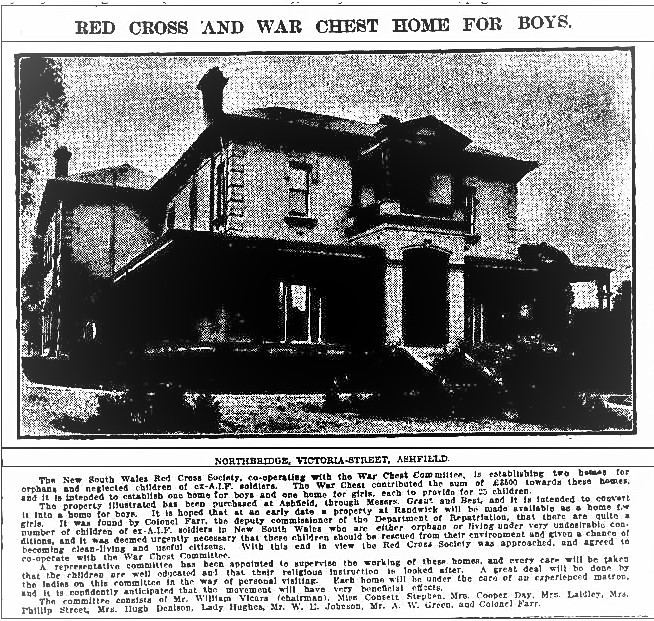 Unfortunately this venture did not succeed with the Red Cross Society reporting:
We have to report with very great regret that the Red Cross-War Chest Children's Home at "Northridge", Ashfield, Sydney, was closed on the 30th June, 1922. It was founded for the benefit of the orphaned and neglected boy children of sailors and soldiers. Owing to the Repatriation Department being unable to induce the parents and guardians of the children to entrust the children to the Society and to give up their pension rights, very few boys reached the Home and finally the Department and the Society relinquished the enterprise.
The Sands Directory of 1924 shows the next occupier of Northridge as Henry Clough.
The father and mother of Bruce Gardiner Brierley [E.9.3a.2b=] (Henry Charles and Margaret Maude Brierley) purchased Northridge in 1924. After the purchase Henry Brierley changed the name to Brierloch. The name combined the "Brier" of Brierley with "Loch" from his wife's maiden name of Locke. An article produced by the Ashfield & District Historical Society written by Margaret Hodgeman states that the Bruce Brierley family lived in Brierloch.
The Sunday Times 20 December 1925 announced that Mr and Mrs HC Brierley had vacated Brierloch prior to leaving for England and the Continent.
The Sands Business Directory in 1927-28 shows a Nurse Champion had leased the property and was running a private hospital. It is assumed that the Brierley family returned from overseas to reside in the home.
Members of the Brierley family resided at Brierloch until approximately 1943 when Margaret Maude Brierley died. In the early 1930's an application was received by the local council to convert the home to flats. In addition, during the late 1930's parts of the land were subdivided off – on the corner of Victoria and Seaview Streets flats were constructed. After her death the property was leased out as individual flats by the estate and fell into disrepair. It was sold by the executors in 1954.
Since that time the house has had several owners. The most recent owner now occupies the house as a private residence.
The Ashfield Heritage Study completed in 1992 describes the house as:
a fine mansion comprising a verandahed main double storey rectangle, single story billiard room, later two story extensions at rear, and a separate former coach house/stables block. Notable architectural elements include robust modillioned eaves, segmental-arched porch above which is a pedimented and balustraded classical belvedere, fine French doors at ground floor, stuccoed quoins and some Art Nouveau leaded glass. The house is impressively set on the rise of its site, well back from the street.
Other Information:
On 11 May 1927, Bruce Gardiner Brierley, the son of the owners of Brierloch, married Hilda Hungerford [E.9.3a.2b] at St James Church of England, Sydney. Hilda was the aunt of Barrie Hungerford [E.9.3a.4b.1c], the current Patron of HAFS. Prior to her marriage, Hilda lived with her parents and siblings a couple of blocks from Brierloch in a large two-storey house at 15 Tintern Road, Ashfield.
Eventually Hilda and Bruce moved into 13 Tintern Road, next door to her parents Henry Walter Hungerford [E.9.3a] and Eleanor Hungerford [E.9.3a=], while his family continued at Brierloch until approximately 1943 when Bruce's mother, Margaret Maude Brierley, died. Hilda and Bruce certainly lived in Tintern Road during the 1940s and there was a back gate between numbers 13 and 15. Both of the houses at 13 and 15 Tintern Road have long since been demolished and replaced with large apartment blocks. As a boy, Barrie Hungerford remembers catching preying mantis with Bruce in the back garden of 13 Tintern Road while the family were drinking sherry. The preying mantis were also allowed to imbibe!
---
Coniston (formerly named Kamari) – 153 Victoria Road Ashfield – Home of Lilian Payne Hungerford [E.9.3a.3b] and her first husband Roy Stanley England [E.9.3a.3b=1]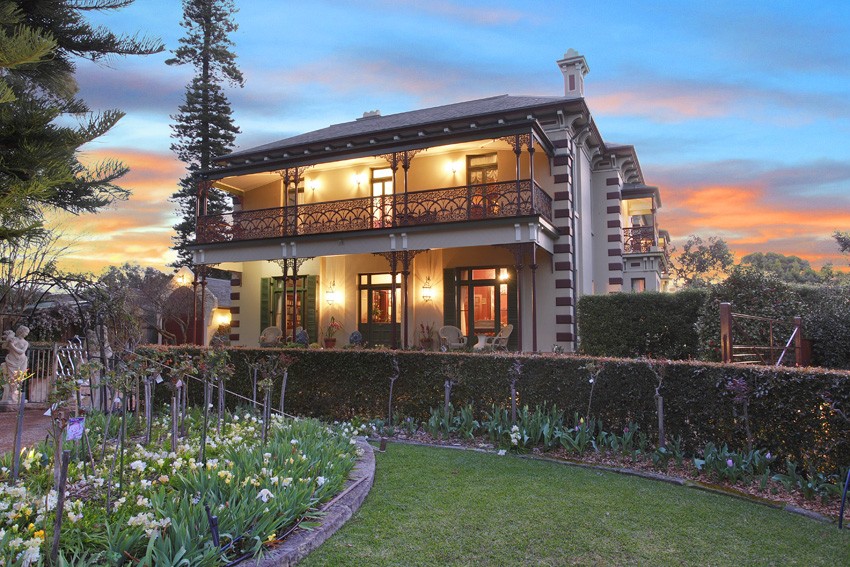 Coniston was constructed during 1885 for prominent Sydney accountant, John Balfour Clement Miles. Upon his death 1907 the executors of his estate placed the property for sale. The sale advertisement appearing in the Sydney Morning Herald on 9 October 1907 quotes the property as:
substantially and faithfully built property standing in a large area of ground, containing 9 rooms, kitchen, sewing-room and office, stabling for 2 horses, coach house, man's room, loft etc.
This home is a symmetrical two storey rectangular triple fronted house in the style of Victorian Regency. It was built in 1885 with brick/stucco walls and a slate roof.
The Ashfield Heritage Study completed in 1992 describes the house as featuring:
modeled quoins and prominent eaves modillions. The verandah has paired posts arranged in three bays. There is a handsome small projecting bay on the north side, with a decorated balcony above. A shallower bay projecting from the south side marks the stair hall, which has a rounded window. The verandah doorways with their large shutter ensembles are notable. The garden has remnants of a former circular layout and includes a mature Norfolk Island Pine.
The house was highly regarded as one of Sydney's most fashionable homes in the early 20th century featuring in the book titled, Our Beautiful Homes published in 1908 shortly after Thomas Hillard England purchased the property in 1908. The Ashfield valuation book for 1908 shows that the council received notice of the sale on 8 July 1908. Thomas England paid £1,600 for the property. Members of the England family continued to own the home until 1961.
The son of Thomas Hillard England was Roy Stanley England [E.9.3a.3b=1] who lived at Coniston until his death in November 1939. On 23 June 1930 he married Lilian Payne Hungerford [E.9.3a.3b] at the Methodist Church, Drummoyne, NSW. She was the younger sister of the wife of his friend and neighbour, Bruce Brierley of Brierloch. As well as being neighbours who married sisters, Roy England and Bruce Brierley were the founding partners with Horace Herald of a Sydney firm of solicitors known as Herald, Bruce Brierley & England.
Many alterations were completed to Coniston over the years. A photo of the house taken in 1977 by Ashfield & District Historical Society shows the front verandah filled in and additions at the rear, which were removed by later owners. Coniston has now been restored to its former glory including the front verandah wrought iron lace work.
The home is currently made up of entry, formal lounge, formal dining, library, dining, family room, lounge, kitchen, bathroom, cellar and laundry on the ground floor. The first floor comprises five bedrooms, study, bathroom, ensuite and dressing room.
Coniston was sold in March 2016 for $5,450,000 with the real estate agent describing the property as:
Rich with history and lovingly restored with an extraordinary attention to detail throughout, "Coniston" is a magnificent Victorian Italianate Gentleman's Mansion of timeless elegance, grandeur and rare distinction. Originally built in 1885 and offering a remarkable 43m frontage, its palatial interiors show-case numerous living areas with soaring ceilings, 6 working fireplaces and stunning timber work; including extensive use of Australian red cedar, 130 year old blackbutt and recycled blue gum.
Roy Stanley Hillard England owned and was living at Coniston at the time of his death on 12 November 1939. A certificate of valuation held in his probate packet states the value of the property was £2,400 in 1939.
His entire estate was left to his wife, Lilian Payne (nee Hungerford). They had no children and after Roy's death Lilian continued to live on the ground floor of Coniston with the long term England family housekeeper, Theresa, know affectionately as "Snee". Lilian had the upper level modified so she could rent it to tenants, who had a separate entrance staircase. In 1948 or 1949, Lilian's nephew Barrie Clive Hungerford [E.9.3a.4b.1c] had his birthday party at Coniston and has vivid memories of the day with his pre teenage friends playing in the large gardens. Lilian continued to live in Coniston until the 1950s, when she moved to a bungalow, which had been built directly behind Coniston in the grounds of the property. Thirteen years after Roy England died, Lilian married Alfred Allen in December 1952 and had moved into the bungalow by the mid 1950s. At that time Percival Clive Hungerford [E.9.3a.4b] and his wife Wanda, parents of Barrie, lived in the bungalow behind Coniston with Lilian and her husband, after selling one house and while waiting to purchase another.
Lilian set about selling the main house but had difficulty getting the tenants to move out of the upper level. The lower level remained empty during this prolonged period until the tenants moved out and the property was sold. The bungalow became known as 9 Yeo Avenue, Ashfield and Lilian continued to live in that bungalow until a few hours before she died peacefully at the age of 86 on 29 July 1983 at Western Suburbs Hospital, Croydon, NSW.
While living in the bungalow, Lilian continued to maintain the standards from the beginning of the century. When Barrie Hungerford [E.9.3a.4b.1c] took his soon-to-be-wife, Judy, to meet his Aunt Lilian at the bungalow on a hot summer's afternoon in the 1970s, as they walked up the path between the fragrant rose beds, music filled the garden. After greeting them at the front door, Lilian, who was immaculately presented and had a friendly, gracious personality, gave a delightful recital on the grand piano, before serving afternoon tea of thinly sliced cucumber sandwiches, delicate cakes and freshly brewed tea. The silver was beautifully polished in spite of the fact that she no longer had a live-in housekeeper.
---
Glanworth – 38 Chandos Street Ashfield – Home of Herbert Blomfield Hungerford [E.6.4a] and his wife Martha Mary Innes (nee King) [E.6.4a=2]
Glanworth was built in 1888 for the timber merchant, JJF Brown and still survives although greatly altered. It is now part of the Asianna Centre. The architect of this home is assumed to have been John Jasper Stone.
On 7 October 1891 an sale advertisement appeared in the Sydney Morning Herald describing the property as:
a gentleman's superior family residence, containing 8 large lofty rooms, tower, tiled hall and bathroom, conservatory, kitchen, laundry, three pantries, massive marble mantels, all picked cedar fittings throughout, stabling, 1½ acres ground, laid out lawns, tennis court, formal gardens.
On 29 November 1893 the home was once again offered for sale under mortgagee in possession. The sale advertisement described the property as:
Glanworth, a family residence, with tastefully laid out garden, in Chandos Street, about 5 minutes walk from Railway Station. It is substantially built of brick, slate roof, tiled verandahs (9 ft. wide), balconies and containing hall (6 ft. wide and tiled), drawing room (with bay window), dining and breakfast rooms connected by folding-door, large conservatory (with fountain in centre), 5 bedrooms, 2 rooms in tower, linen press, bathroom (tiled), kitchen, 3 pantries, laundry, wood and coal house, look out on tower-roof. The area of the land is about 1 acre and 17 perches, having 175 ft frontage, with a depth of 300 ft.
A well designed, commodious, attractive, faithfully erected and neatly finished residence, in a choice position and surrounded by first class properties. The rooms are lofty, ceilings corniced and mantelpieces of marble, gas and city water.
In 1901 and again in 1920 the home was once again offered for sale.
It is interesting to note that the Sydney Morning Herald of 23 January 1900 has a birth notice for a stillborn son of Alexander Robert Minter [E.8.6a= and his wife at Glanworth on 21 January.
Other events occurring at Glanworth were:
Stuart George Hungerford [E.6.4a.5b.1c] was born on 7 September 1932.
Martha Mary Hungerford (nee Innes) [E.6.4a=2] died 26 April 1932.
Herbert Blomfield Hungerford owned and resided at Glanworth in 1936.
Editor's Note: Herbert Blomfield Hungerford's first wife, Mary Edith Vaughan [E.6.4a=1] was the daughter of Rev John Vaughan the rector of St Andrew's Anglican Church Summer Hill, where HAFS had its annual church service in the recent past. Herbert married both his wives in this church.
Valuation contained in his probate package describes the property as a brick house, eight rooms, kitchen & offices, slate & iron roof, stables, three tennis courts, two garages and valued the property at £2,100. The contents within the home were valued at £86. A detailed description of the home is described within the contents valuation report including downstairs lounge room, dining room, hall, two bedrooms, kitchen, verandah, room off verandah and flat. Upstairs contained four flats and verandah.
---
Bibliographies
Bramhill Bibliography
Dr Henry Lindeman and Cawarra, Gresford Part 1 by Jack Sullivan
Sydney Morning Herald (12 Nov 1883)-Family Notices
Sydney Morning Herald (16 Mar 1889)-Advertising
Sydney Morning Herald (13 Mar 1890)-Family Notices
Sydney Morning Herald (19 Jan 1892)-Family Notices
Sydney Morning Herald (19 May 1892)-Advertising
Sydney Morning Herald (2 Sep 1892)
Sydney Morning Herald (12 Oct 1892)-Advertising
Sydney Morning Herald (6 Jan 1897)-Family Notices
Sydney Morning Herald (5Jan 1907)-Advertising
Sydney Morning Herald (17 May 1913)-Advertising
Sydney Morning Herald (12 Mar 1919)-Advertising
Sydney Morning Herald (29 March 1919)-Advertising
Sunday Times (Sydney) (30 March 1919)-Advertising
Sydney Morning Herald (11 Oct 1920)-Family Notices
Sydney Morning Herald (27 Apr 1921)-Advertising
---
Ashfield Houses Bibliography
Ashfield & District Historical Society Journal Nos 13 and 14
Ashfield Historical Society
Ashfield Heritage Study 1992
Australian Red Cross Society Leaflet No 11, September 1922
Probate Package for Roy Stanley Hillard England Series 4 Item 246798 NSW State Archives
Probate Package for Herbert Blomfield Hungerford Series 4 Item 213059 NSW State Archives
Primary Application PA20508 NSW State Archives
Sands Business Directory 1924 and 1928-28
Personal memories of Barrie and Judy Hungerford
Newspaper Articles from Trove as follows:
Sunday Times – 20 December 1925
Sydney Morning Herald – 3 January 1885
Sydney Morning Herald – 7 October 1891
Sydney Morning Herald – 29 November 1893
Sydney Morning Herald – 2 April 1889
Sydney Morning Herald – 23 January 1900
Sydney Morning Herald – 9 September 1901
Sydney Morning Herald – 9 October 1907
Sydney Morning Herald – 29 August 1911
Sydney Morning Herald – 13 October 1920
Sydney Morning Herald – 14 October 1921
---