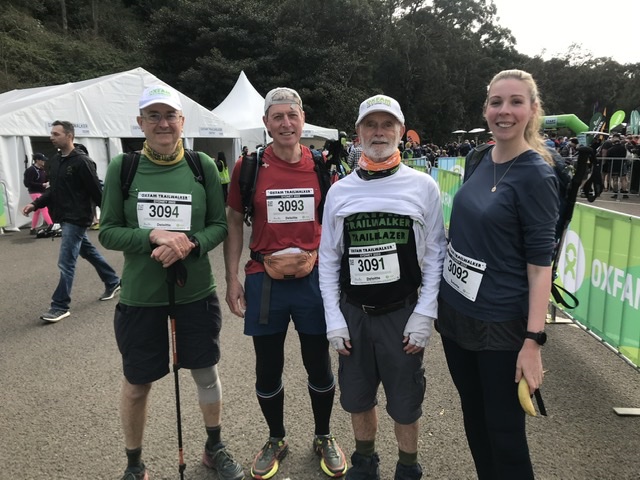 Our Team started with four (David Bell, Nick Rutledge, Katherine Zlatar and myself) but unfortunately finished with only three. Katherine had to retire at Bobbin Head after the first 50kms. She had spent the previous two days ill at home and had developed quite a sore leg.
There was light rain on-and-off from about 1 pm Friday but it didn't really trouble us. We waded through three creeks of about 5cm depth so had wet feet from the Cascades onwards. The track was very muddy – and so were the checkpoints with everyone visiting the tents. I was very tired at the end – whoever said age shall not weary them was telling fibs.
The others walked faster than me so I used up a lot of energy trying to keep up. They did wait for me at critical spots as we had to check-in together at the checkpoints. At Clontarf I felt a bit queasy so we all stopped for a while. After an electrolyte tablet from David and a piece of ginger from Nick I recovered. Nick kindly carried my backpack from there for the last 2kms.
We also spent about 15 minutes looking on the trail for Katherine. I knew she was ahead but the other two thought she was behind us. Some frantic telephoning found her – ahead.
We were overtaken by the leading team in the 50km event which started at Bobbin Head at 7 am on Saturday. They only took 7h 28m for the 50kms.
We crossed the Finish Line at 3:41 pm Saturday. Our target arrival time was 11:05 am so we were a tad late. In fact the only time we were on target was at the Start!
Once the total of donations to me reached $1,000 I became a Trailblazer and earned a T-Shirt and buff. See the picture above with me holding up my overshirt to show the green Trailblazer T-shirt underneath.
Thanks to my team-mates for agreeing to participate with me for my 10th Trailwalker and for doing so. It was a great experience, and thanks again to all the donors.
The Statistics
Total Team time for the event:
30:41 hh:mm
The winning time:
17:09 hh:mm
Team "time out":
3:22 hh:mm
Total competitors:
846 walkers started but only 616 finished (73%)
Food consumed at rest breaks:
Soup, hot drinks, apple and yummy tangelo, hot chocolate, nibbles, biscuits – and at McDonalds at Mt Colah (the Captain's Call) a small chips (terrible) and a free coffee (good)
The results:
Individually we came 265-267th overall and 182-184th in our category.
Total raised to date for Oxfam:
$1,568,161
Total raised by the Tania or Bust Team:
$3,832
My

Huge

thanks to:
Our donors, our Support Team for our dinners and other 'goodies', and my fellow team members