Garth Hungerford is a vital member of the Wagga community as a health advocate and advisor. He was recently honoured with the Volunteer of the Year award at the 24th Annual NSW Health Awards. (Garth [E.9.3a.4b.1c.2d] is the son of our past patron, the Hon Barrie Hungerford).
As Local Health Advisory Committee (LHAC) chair, Garth had contributed his time and knowledge of the local community as a community representative to working groups within the Murrumbidgee Local Health District (MLHD), multiple councils and committees.
"I volunteer on many committees with the Murrumbidgee Local Health District, Primary Health Networks, and at a state level, but near and dear to my heart is the Wagga Wagga Local Health Advisory Committee," Garth said.
"Our project this year was focusing on youth mental health by developing multicoloured silicone wristbands with the words 'Head Here for Help' and a QR code which directs local students to a dedicated website to access information on their own time or with their peers."
The silicone wristband was designed and developed in response to a concerning spike in youth suicide within the Riverina region.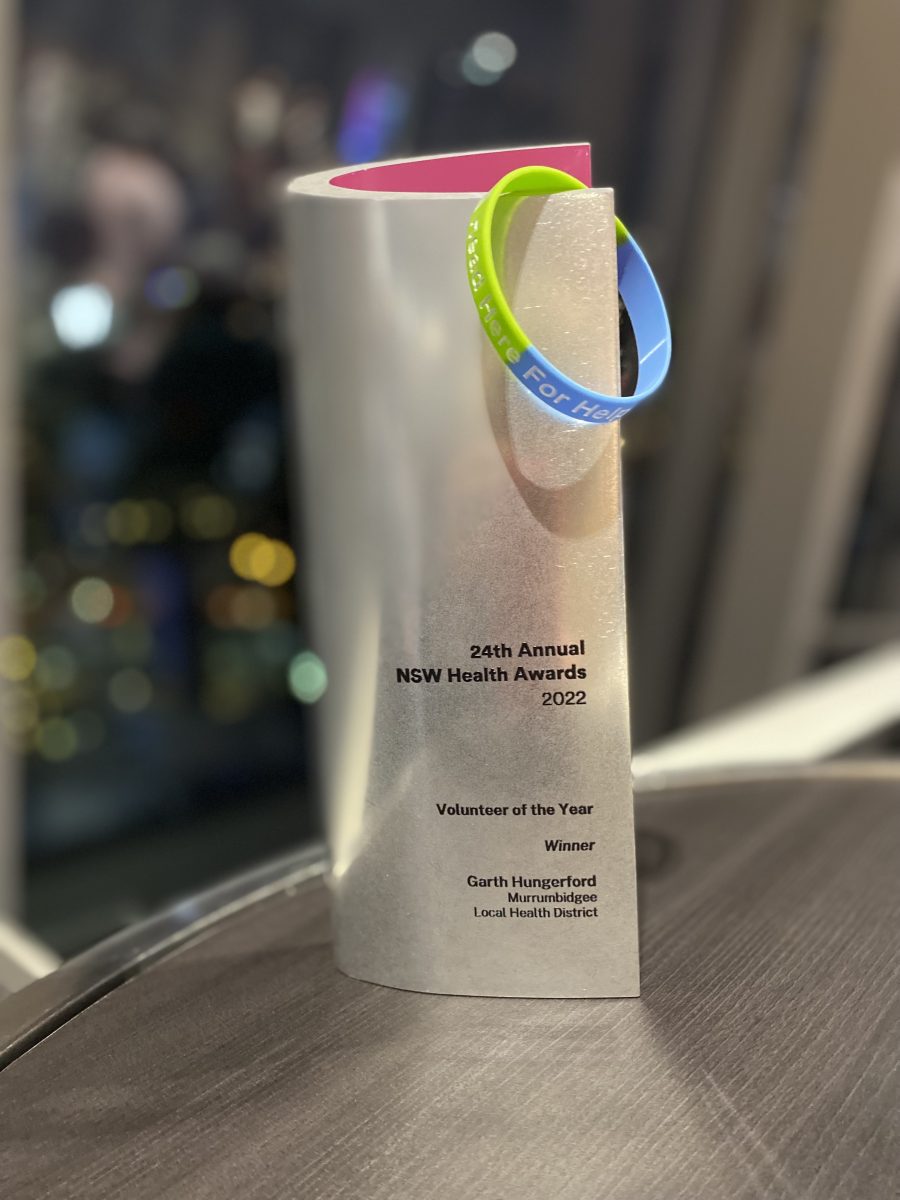 The wristband pictured on Garth's award was the outcome of a project that focused on youth mental health. Photo: Murrumbidgee Local Health District.
The wristbands come in a variety of vibrant colours for all ages, including the colours of the Aboriginal flag. The LHAC worked with Wagga high schools and local media to distribute wristbands to students in years 7 and 8. Over 5000 wristbands have been distributed to date with significant interest from local students.
Garth said winning a New South Wales Health Award would put a spotlight on partnering with consumers, patient-centred care and the development of new models of care. "Everything I do as a consumer advocate is to effect change and improve the health outcomes of our consumers."
MLHD congratulated Garth for winning his award and all the winners of the 2022 Annual NSW Health Awards.
This article originally appeared in Region Riverina on11 December 2022, by Shri Gayathirie Rajen.